Expanding Your Voice Over Business to On Camera Work
Acting is acting! Your voiceover skills can bring you opportunities in film and on TV
There's a notion out there that most voice actors choose to work behind the mic because they're uncomfortable in front of the camera.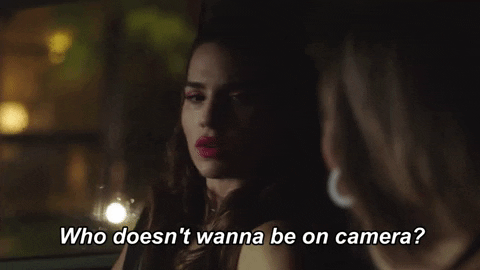 That may be true of many, but there are quite a few of us who enjoy the on-camera work as much as we do voice overs. And there is so much of it! For all ages and types. First, there's the traditional genres:
Film - blockbuster movies to independent short films

Television - network, plus streaming and cable - more shows than you realistically have time to watch

Commercials - national brands to local businesses

Industrials - films made by businesses for internal usage

Print - just what you think it is: newspaper and magazine advertisements, flyers, posters, or other physical media
But wait, there's more! Digital technology and the internet have brought even more options:
Web series

Website-based videos - especially for businesses

Music videos

YouTube videos - that don't fit any of the other categories
And believe it or not, the acting skills translate from voice over to on camera work, though there are differences.
From behind the mic to in front of the lens ... it's still acting.
And your skills DO translate between genres.
Similarities and differences to VO
First, the similarities. Both VO and on camera industries require their talent to have proper training, coaching, professional work samples, and a quality home setup. Both enable you to find work through agents and on your own, and give you opportunities to audition even while you're traveling.
All good, but there are quite a few important differences, too, including:
in person work vs. remote

group vs. individual collaboration

hair, makeup, wardrobe vs. record as you are

memorization vs. reading (a biggie!)

reels of actual film/TV work vs. VO demos

self-taping auditions vs. VO home studio

heavier reliance on agents for professional jobs

you're fully on THEIR schedule (better be flexible)
As with VO, decision-making by the clients is similarly still very much a subjective thing. Casting directors, directors, and producers select talent based on all sorts of criteria, not just on talent alone. It depends on who they think is best for a particular role, how that person fits in with an existing cast, who they already know and like, or if their project needs a tweak in direction to appeal to a wider audience. All actors can do is give their best performances ... and then forget about them. Just as in voice over.
There are extra considerations when it comes to on-camera casting, much of it resting on the actor's physicality and how it play on its own and as part of the overall cast. Individually, physical parameters include: age, height, weight, body shape, gender, race, ethnicity, and cultural considerations. Group dynamics go beyond that: if you're to be cast as part of a family group, do you fit in? Do you look old enough/young enough to play the older/younger version of a main character? How do you look compared to the rest of the cast?
And then there are the physical considerations you'll probably never know about. If you resemble the A-lister too much or may even physically outshine them - you're gone. If you remind the director of his nasty ex - you're not going to have a chance. And sometimes physicality has nothing to do with it, like when the producer's cousin's son's brother-in-law really wants to be an actor and a favor is owed. Oh well, Charlie, sorry, but you're out. It happens.
How to get started
Despite all this, you still really want to be on camera. Great! Let's talk about those first steps:
Training - yes, VO training is awesome and much of it applies to on camera acting. Script analysis, scene study, etc. But there's more to it: Do you know how to play to the camera? Do you know how to use eyelines, move within your camera frame, and convey emotions and thoughts with small movements and expressions? Are you comfortable memorizing pages of copy and delivering monologues? How about improvising a bit here and there? And how's your stamina when you'll be filming one scene over and over again from different angles for hours?

Tools of the trade - they're a bit different from VO, reflecting that you're using your whole body on camera and not just your lovely voice. You'll need at least two headshots, a smiling commercial one and a more serious representation of yourself for film and TV. Both need to showcase the authentic, natural you. They need to be taken by a professional headshot photographer who understands and specializes in what actors need. You'll also need a properly formatted resume and a professional 60-90 second reel of snippets of your best TV and film projects, each scene only 10-12 seconds long. No website is needed, but you do need accounts on a couple of casting sites to receive and submit auditions.

First jobs - before you even look for an agent, you need experience on set and a few credits to your name. Unlike with VO, it's perfectly OK and even expected that these first jobs will be unpaid. Make sure you get a clip of your scenes, so that you can include them in your reel. Look for projects made by student filmmakers, small independent filmmakers, other actors, and those posted on casting sites.

Network - there aren't any big industry conferences like we enjoy in VO, but there are film festivals, red carpet events, meet and greets with casting directors and agents, and plenty of opportunities to get to know your fellow actors in class and on set. Social media is important, too, especially on Instagram, TikTok, and in actor-oriented Facebook groups.

Agent - once you have headshots, some experience, and a basic resume (which should include training and special skills - especially important if you don't have many credits), then you can begin to look for an agent. Forget about packing your bags and heading to LA. Instead, look for the many local and regional opportunities in your area and work to become known there before looking at a larger market like LA, NY, Atlanta, or Chicago.
"Bloom where you're planted" are wise words to live and grow by.


Self-tapes: the film/TV answer to the VO home studio
On camera actors have an advantage in that it doesn't take a significant investment to get started. Yes, you'll shell out money at the beginning, especially for training. But unlike in VO, you don't have to build a broadcast-quality production studio to audition.
You do, however, need to be able to self-tape your auditions and know how to properly edit and submit them. Why? Well, you can thank Covid for that. Auditioning in person for the casting director came to a screeching halt during the pandemic. In its place, once productions started up again, were auditions by Zoom and more popularly, via self-tape.
While actors in LA and NY scrambled to figure out this whole self-taping business, we in the southeastern US market just went about our business as usual. Here in Atlanta, the self-taped audition has been the standard for quite some time. When you have a geographically large market, self-tapes allow for a more efficient auditioning process. No travel time and the casting directors can see many more actors per role. Of course, they can - and do - go through those tapes very quickly, just like they can - and do - for voiceover auditions. On average, only the first 6 seconds of a tape may be watched unless there's something right up front to catch the CD's interest. So as with VO auditions, you have to come out of the gate with a strong first impression.
So what's involved? It's not a selfie.
The basics include good lighting, a camera on a tripod, and a solid backdrop or blank wall to start. You'll need some basic video editing software and an actor friend to read with you in the roles in the scene opposite yours. Lighting options can be rather inexpensive: a couple of box lights or LED panels; even natural light coming from a window can help. A mobile device with a camera recording in landscape mode works well, as of course does a DSLR camera with an external microphone. Amazon has plenty of resources that don't cost much money.
Or, if you'd rather not deal with the whole thing, you can go to a local taping service and pay for them to do the whole thing for you. Most large cities have at least several.
Laura's Quick Tips
Voice over and on camera work are two sides of the same coin - if you're not camera-shy, it could be a great addition to your voice over business!

Acting is acting is acting - so much of what you already know translates well.

The similarities to VO will help you realize "Oh, this isn't so hard!"

The differences will keep you on your toes, but also expand your performance abilities in new directions.

Self-taping auditions is a little like VO: you can do it a few times to be sure to send in your best take vs. live in front of the casting director.

The extra investment in training and materials will NOT break the bank.

Be a one-stop solution: one talent for both a project's narration and on camera needs!
I've only touched the surface on how to get started in film, TV, and on camera commercials and industrials. If you'd like to learn more, I invite you to join me for a 90 minute deep dive on Tuesday, September 20 at 9 pm EST, when I'll be Rhonda Phillips' guest on her Late Night Secrets for Voiceover Success webinar.
I'll cover the topics in this blog in more detail plus: types of roles in film, TV, and commercials and where to find them; which on camera casting sites you need to subscribe to (and which to avoid); what life on set is like and who and what you need to know; and how to balance more than one career. If you're 50+, you'll also learn about the roles available to you - there's more than you'd think!
Register here to attend '"From Mic to Lens: Expanding From Voice Over to On Camera Work" on September 20, 2022. Coming soon to a computer near you.


I'm Laura Doman, a former tech industry sales executive, hands-on mom, voice & TV/film actress, and improv performer. I create memorable characters that tell my client's stories, from the friendly CEO touting new upgrades to your sassy best gal pal dispensing some necessary, real-world advice...

Let's Talk!
COMMERCIALS • EXPLAINER VIDEOS • CORPORATE NARRATION • ELEARNING • K12 • MEDICAL NARRATION • CHARACTERS & ANIMATION • TELEPHONY